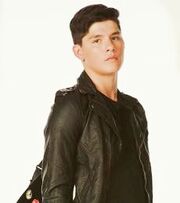 Zigmund "Zig" Novak is a sophomore (Grade 10) at Degrassi Community School. He's handsome, charming, and obsessed with skateboarding and playing music. His home life isn't much fun, so he makes the most of his time at Degrassi—flirting with the girls and making his guy friends laugh. Zig finds himself in detention on a regular basis, but he can usually talk his way out of trouble.
Trouble follows Zig, whether it's talking to girls or even doing nothing, he always finds himself in a tight situation. Zig even feels that he hurts the ones he cares about the most. He is best friends with Damon andMaya Matlin, and is good friends with his former band mates Mo Mashkour, Imogen Moreno and Adam Torres (before his death). He is also good friends with Zoë Rivas, Grace, and Tiny.
He was enemies with Campbell Saunders before his death, and has a dislike towards Miles Hollingsworth III. He is the Power Squad mascotand currently a member in the band, WhisperHug. He changed drastically during the summer before his sophomore year, now a bad boy who is involved with the wrong crowd. Zig is portrayed by Ricardo Hoyos.